All-in-one  Vulnerability Management, Threat Intelligence and Security Awareness platform
Do you need a Vulnerability Management Platform for your website and your IP addresses?
Do you struggle to educate your employees about latest techniques used by hackers to attack them with ransomware, phishing and spear-phishing?
Do you want to monitor employees email addresses to discover when a data breach affected them?
Do you want better Threats Prioritisation using AI?
Do you want to monitor your websites for malware infections?
If you are looking to all of the below in a single dashboard, read further. 🙂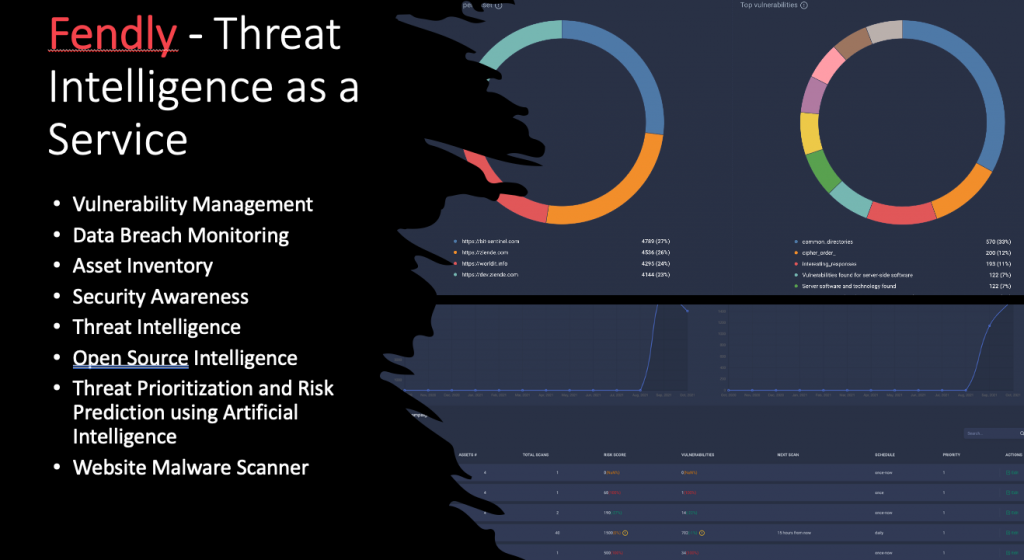 FENDLY is an All-in-one Vulnerability Management, Threat Intelligence and Security Awareness platform that is a cost-effective solution to achieve consistently, best-in-class vulnerability scanning, security awareness for your personnel, threat intelligence and malware scanning, analysis of threats, and prioritization at a fraction of your existing cost.
Create a risk-based vulnerability management program that is proven to improve your security posture and the overall security awareness of your staff.
Featuring fully-managed vulnerability assessments at customer-specified intervals (typically monthly or quarterly) to swiftly and accurately identify vulnerabilities on your network and with your applications.
We built several helpful features into the platform to make Vulnerability Management, Threat Intelligence, Asset Monitoring and Security Awareness engaging and effective.
FENDLY includes:
A mature Vulnerability Management platform to identify, prioritise and manage the entire lifecycle of all cyber security threats, including Machine Learning and Social Media Signal monitoring for threats.
A full set of features to manage your teams, schedule security awareness campaigns and assess the maturity of your staff based on Phish Enterprise
A data breach monitoring solution that looks for your teams and when one of your employees have leaked personal information (such as password, postal address, credit cards) you get notifications
Asset Management which includes tags and labels to better organise and monitor the entire organisation
Website vulnerability and malware scanning, network vulnerability scanning which can be scheduled based on your needs.
Reports and analytics to better capture the organisation maturity, prioritise risks and assets, all from a single dashboard. 
You can leverage all the platform capabilities in 2 ways:
In the cloud

– you will get access to a dedicated tenant, invite your team and start monitoring your assets or assess your employees

On-premise

– get all the benefits of the cloud-based platform but with more control, adapted to your needs

Fully managed by our team at Bit Sentinel – offload cybersecurity awareness trainings, vulnerability management, threat hunting and threat monitoring to a team of infosec professionals 
Whatever option you choose, you'll have our full support to deploy FENDLY in your organization and train your teams to use the platform effectively in their cyber security programs.