We help companies like yours discover, prioritize, and effectively remediate potential cybersecurity threats.
If you find yourself struggling to prioritize improvements to your organizations' cybersecurity setup, you should know you're not alone.
Many IT managers, CIOs, and CISOs are deeply worried about their company's resilience to cyber attacks, given the current threat environment. Most of them also have trouble getting the resources they need to solve pressing issues before they turn into data breaches and company-wide crises.
This is precisely why more organisations like yours are using penetration tests to evaluate the security of their IT infrastructure in a safe and instructive way.  
Penetration Testing Services
Penetration testing -
demystified
In a nutshell, when security experts conduct penetration tests, they simulate cyber attacks, attempting to uncover and safely exploit a company's system vulnerabilities. They do so without compromising the availability of the systems and confidentiality of information so businesses can continue to operate as usual.
Infosec professionals leverage their ethical hacking expertise to reveal:
weaknesses in your infrastructure setup

flaws in the operating systems, services, and applications used throughout your company

improper configurations

risky end-user behavior

logic flaws in the applications' business processes

weak credentials that cyber criminals can use for malicious purposes

Hijacking and plenty more details.
Experienced IT and security leaders routinely commission penetration tests because they provide extremely detailed information on exploitable security threats.
This enables them to proactively address critical security weaknesses, mitigate them before attackers take a swing at them and avoid any downtime cost.
You should contract a penetration test...
At least every 12 months

as data flowing through the business tends to accumulate errors and vulnerabilities on both the tech and human side

when you

introduce new applications or new equipment

into your network, to ensure they don't bring new vulnerabilities

When you

make significant changes

to how the applications in your organization work

After you've applied security patches or implemented new security solutions

to find out if they've been properly implemented

When you

relocate to a different office space

which involved a new tech and physical setup with new security challenges

When you make

important updates to your internal policies and procedures

that inherently impact your overall security level.
Penetration Testing is
not the same as Vulnerability Assessment
It's useful to know that vulnerability assessments are part of penetration tests and the two are not synonyms.
Pentesting provides a more detailed outlook and is done manually, by specialists. That's because it removes false-positives which makes it easy for you to focus your resources on fixing the right issues.
Moreover, a human can detect any subtle changes, logic flaws and abnormal behaviour that automatic tools and technologies won't be able to catch in a timely manner.
Throughout our history of doing penetration tests, we've seen our customers make great progress by applying the actions we recommended.
For example, subsequent pentesting engagements we did for them in the following years uncovered no critical or high risk vulnerabilities. When you act on threat data, results become obvious.
Here are some of the objectives you can achieve after a thorough pentesting like the one we do at Bit Sentinel.  
Make
well-informed decisions

and be agile in protecting your critical assets
We compiled a list to look for when you decide to perform a penetration test against your web application, network, infrastructure, workstations, wifi networks or employees. This will also help you better understand the advantages of performing this type of security audits.
1.

Identify critical vulnerabilities that endanger your organization
Our team tests your security controls throughout the entire company to reveal crucial vulnerabilities that require urgent remediation.
Expert validation helps you prioritize security issues accurately, so you have a clear plan to follow once the pentest is completed.
2.

Know your network risks and vulnerabilities in depth
Assigning severity levels to your security issues is a key aspect but we go further than that.
Our penetration tests also include an assessment of how attackers could combine and exploit low-risk vulnerabilities in such a way that they end up creating higher-risk ones.  
3.

Interpret, prioritize and act on threat data to minimize your exposure
When you perform a pentest with Bit Sentinel, our team ensures you get the highest value for your investment.
That means we don't hand you an indiscriminate list of vulnerabilities. Instead, we provide you with a prioritized action-plan that includes context and actionable recommendations.  
4.

Get direct input from specialists - no middlemen, no sales people
Working with us means you'll always have a single point of contact to answer all your questions and guide your decisions. What's more, that person is an infosec professional who is directly engaged in the pentest.
This means you get knowledgeable answers and competent input throughout the entire project.
5.

Gain the upper hand by taking a proactive approach
Pentesting can make cybersecurity a significant competitive advantage for your company. When you identify and address security gaps before a malicious hacker does, you're the one in control.  
A strong grasp of your environment enables you to determine clear priorities and removes a great deal of ambiguity from your workflow. You can focus and be more effective in your work, as can everyone else in the company.
6.

Accelerate patches and fixes with a clear course of action
The penetration tests we do at Bit Sentinel go far beyond vulnerability assessments. During the project, we manually review and remove false-positive results so, you get a sharp image of the threats targeting your organization.
This makes it easier for you to tackle specific challenges and saves time you might spend on additional verification.
Moreover, we use human intelligence, experience and expertise that can detect any subtle changes, logic flaws and abnormal behaviour that automatic tools and technologies won't be able to catch in a timely manner.
7.

Use custom recommendations to mitigate uncovered security issues
No two companies are alike which is why we don't use template reports and recommendations. The remediation guidance we provide is never generic but rather adapted to your context.
Each pentest the Bit Sentinel team handles includes tailor-made suggestions that focus on your company's specific needs and challenges.
8.

Validate the efficiency of your company's defensive mechanisms
A professional penetration test assesses how effective your current security controls are. As a result, you can clearly evaluate how adequately your company has built and deployed both proactive and reactive defenses.
Armed with these insights, IT and security leaders, like yourself, can make better decisions going forward.
9.

Understand your points of failure and how attackers might use them
Knowing where and how your cybersecurity setup might fail is not enough. Malicious hackers are increasingly skilled and creative in their approaches.
To beat them at their own game, we use similar tactics when we simulate cyber attacks during pentesting. Our goal is to determine whether your critical data is actually at risk and specifically how it's exposed.
10.

Determine how employees and providers follow your security policies
Do your colleagues in marketing or HR know what to do when they get a phishing email?

Do decision-makers have a crisis plan to handle a potential data breach?

Do providers know who to contact in case they get compromised and it affects you too?

How long does it take for your staff to identify the attacks performed in a penetration test?
Penetration tests help you answer these questions and more. You also understand the knowledge gaps throughout your organization, so you can plan to solve them.
At Bit Sentinel, besides advising you on technical implementations, we also train your team to recognize, react and respond to cyber threats.
11.

Evaluate potential consequences and build protection scenarios
Successful cyber attacks often have far-reaching consequences that business leaders did not anticipate. We're here to help you avoid ending up in this situation.
Our team of infosec pros enable you to accurately measure risk and evaluate the potential impact of common cyber attacks and other security incidents.
On-the-ground knowledge paints an accurate picture of your current context and helps you balance quick fixes and long-term solutions.
12.

Get C-level commitment to make your cybersecurity program a business priority
When you assign a monetary value to real-world effects of data breaches and other forms of malicious hacking, you have strong arguments to present to your superiors.
In order to maintain your board's engagement with cyber risk management, you need explicit proof that the issues are worth addressing promptly. We supply the data you need, complete with context and prioritization.
13.

Define a security strategy to gradually reduce the risk of privilege escalation or lateral movement
A good strategy to keep cyber criminals from compromising your critical assets is to build your security setup in layers.
When we simulate realistic attacks against your defenses, we try to infiltrate your company from various angles. Whether the attackers target an employee, a customer or a technical security control, we inform you of what might happen and how you can prevent privilege escalation or lateral movements in your network.
14.

Learn how vulnerable your critical assets are to cyber attacks
Contracting a pentest informs you whether your organization's defenses are focused on protecting what matters.
Bit Sentinel security experts simulate the tactics, techniques, and procedures that real-world cyber criminals use when targeting your assets.
Our goal is to give you the data and indications you need to keep business-critical assets safe and confidential.
15.

Meet regulatory requirements and reinforce your partners' trust
Many large organizations are required by law to prove that they're proactively managing their cybersecurity program. Even business partners sometimes ask for it because security is now a key trust factor for big engagements and investments.
Use a penetration test to identify gaps in your information security compliance. Solve them to become and remain compliant with the latest regulations. The security audit that's part of the pentest supports your efforts and provides the starting point to produce or improve your risk management policies.
16.

Gain deep insight into attackers' motivations and tactics
In order to anticipate which business asset malicious hackers will target in your company, you have to understand their incentives and how they operate.
At Bit Sentinel, we go to great lengths to explain current threats and tactics, supporting you to build your defenses adequately.
17.

Identify the response time of your information security team
When we simulate attacks, we also observe and record how long it takes for your security team to realize there's a breach and act to mitigate its impact.
Pentesting is one of the most effective ways to test your own team's response time and find the most powerful ways to improve it.  
Here's what a Bit Sentinel
penetration test includes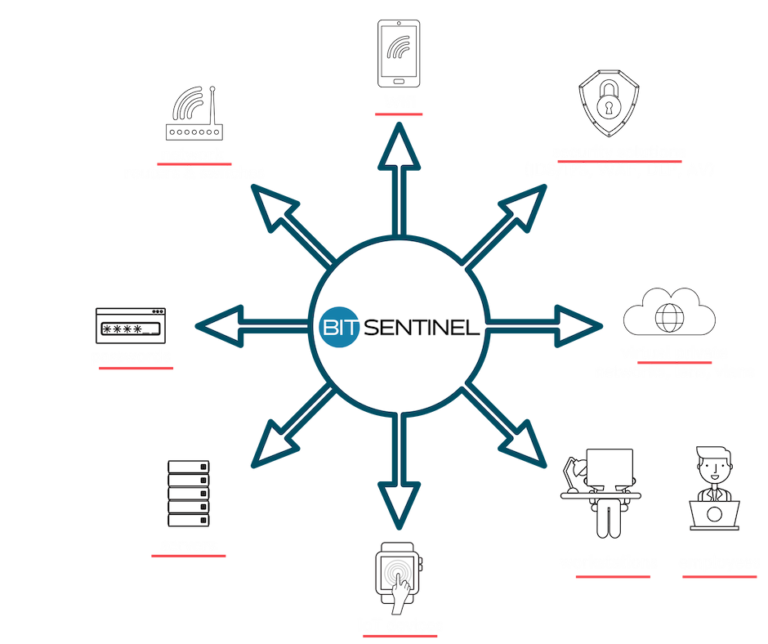 1.

Network Perimeter Penetration Testing
In this aspect of the pentest, Bit Sentinel ethical hackers focus on discovering what information an attacker can get if they successfully breach your network perimeter. Moreover, this scenario also exposes insider threats, such as disgruntled employees, suppliers or customers that a malicious hacker may target.
Here are just some of the elements our experts will strive to evaluate:
publicly available information

about your company and your network (IP addresses, domain names, host names, etc.)

email addresses and personal information

about your company's leaders (CEO, CFO, IT managers, etc.) that can be used in subsequent stages

repositories of stolen data from a previous breach

that might include details about your company which an attacker might use

the configuration of the network

and how security technologies, such as firewalls, Intrusion Detection Systems (IDS) react to different threats

network mapping, OS fingerprinting, and network segmentation
the ability to capture data as it travels across a network

(also known as Man-in-the-Middle attacks or traffic sniffing)
Network perimeter pentesting also involves a full vulnerabilities scan, filtering the results, and cleaning up false positives.
Additionally, our team realistically simulates what happens if a malicious actor gets behind your firewall and compromises a user-level account.
2.

Application Penetration Testing
An important part of the pentests we do for our customers is to uncover the vulnerabilities in their web and mobile applications. The more apps your company uses, the higher the risk, so a penetration test becomes an essential requirement.
Doing an in-depth code review to identify security issues is a core focus for us. We inspect your apps throughout the Software Development Life Cycle (SDLC), following if best practices are applied and where your development team could improve the code to prevent security issues.
This is part of the comprehensive assessment we perform to discover which weaknesses attackers might leverage to gain unauthorized access or to cause critical data to be exposed.
For example, web application issues can include SQL injection, cross-site scripting, unsecured authentication, sensitive data exposure, security misconfiguration and weak cryptography. These are just a few examples, as the list goes on for longer than any infosec professional would like.
Testing applications is a thorough process because it involves looking at particular details and spending the time to understand usage habits and the bigger context around these heavily used apps.
3.

Mobile Penetration Testing
Maintaining flexibility while also preserving security is a key objective for many organizations like yours.
That's why, at Bit Sentinel, we focus on comprehensive tests to explore how secure the mobile devices used in your company really are.
Naturally, we do the same for the apps installed on them. We dedicate time and attention to the security code review portion of the test, analyzing the mobile applications employees use frequently or less often.
Our goal is to help you gain an accurate understanding of the types of risk mobile apps and mobile devices introduce into your company. Once identified and prioritized, you can also count on us to point out the solutions that can help you mitigate this risk.
4.

Wireless Penetration Testing
When you work with our team at Bit Sentinel for a pentest, we also determine how secure the wireless solution you deployed is.
Through the results and guidance we provide, you gain a deeper understanding of how secure your company's data is in transit. The same applies to the systems in your organization that are connected via wireless technology.  
For example, we might discover unsecured wireless network configurations, weak authentication or vulnerable protocols. These security gaps can allow attackers to gain access into the wireless network even from outside your building.
Another point of entry for malicious hackers can come up when employees use their mobile devices on insecure, open guest networks while holding meetings outside the office or while traveling.
5.

IoT Penetration Testing
As part of our penetration tests, we also closely examine and probe embedded devices and IoT (Internet of Things) devices spread throughout your organization.
Because IoT includes software, sensors, actuators, and because they're always connected to interact and exchange data. It's our job to determine if they're safe to use and if data can flow through them in a secure manner.
Consequently, we assess your IoT devices by attempting to:
Exploit the embedded firmware

Control the devices by injecting unsolicited malicious commands

Modify data sent from these devices.
The objective is to help you understand if these devices can ensure your security standard is preserved. At the same time, our goal is to confirm if the commands and information issued from any of your IoT devices are legitimate.
With malicious hackers renting botnets rather cheaply and launching Distributed Denial of Service (DDoS) attacks that crush defenses and take down websites used by millions, it becomes essential to validate if your company can withstand such an attack.
As part of our process, we test your predisposition and your network assets' behavior to many types of Denial of Service attacks. At the same time, we examine your DDoS defenses or applications in various scenarios to see if your network architecture is resilient and if your protection systems work as intended.
7.

PCI DSS Penetration Testing
As you may know, the Payment Card Industry Data Security Standard (PCI DSS) was introduced to ensure that handling customers' card information meets at a minimum degree of security.
Penetrations tests officially became part of the requirement only a few years ago, along with vulnerability assessments.
With so many data breaches happening, the legal context demands that companies who handle card data perform the following tests once or twice a year:
Segmentation Testing

Vulnerability Assessment

Penetration Testing
The pentester has to be an independent company, like Bit Sentinel, for example.
What's important to know is that when we do PCI DSS pentesting, we don't just provide you with results based on automated scans. Our infosec experts manually simulate attacks against vulnerabilities discovered in steps 1 and 2. This demonstrates the real-life risk to your business and helps you focus on what needs to be fixed to ensure:
PCI DSS compliance

Your business's continuity

And that the customers' data is safely stored and handled.
What's more, the Bit Sentinel engineers personally work to identify and validate vulnerabilities that automated tools sometimes miss.
8.

Norm 4/ASF 2018 Pentest
In 2018, ASF (Autoritatea de Supraveghere Financiara / Financial Supervisory Authority) Romania issued a regulation that compels insurance companies to do regular penetration test to ensure they have the proper security controls in place.
If you're looking for an independent penetration testing company, we at Bit Sentinel can provide you with professional services that keep you compliant with Norma 4/ASF 2018.
Contract our team and we will use our expertise and experience to audit your insurance or brokerage company's security controls in depth and help you improve your overall security, both in technical terms and from an operational perspective.
At the same time, our team has the skills and know-how to provide related managed security services, such as:
Risks assessments and risk management

Creating or improving processes to ensure your company meets the necessary information security standards

Plans for data loss prevention

Business continuity and disaster recovery plans and more

24/7/365 incident response & monitoring to identify, classify, and respond to cyber attacks.
The
7 stages

of a Bit Sentinel penetration test
At Bit Sentinel, we use the best practices in information security to ensure that you get the biggest value from every type of penetration test we do.
The standards we strongly adhere to include:
NIST (National Institute of Standards and Technology)

OSSTM (Open Source Security Testing Methodology)

OISSG (Open Information Systems Security Group)

OWASP (Open Web Application Security Project)

CERT Coding Standards

Penetration Testing Standard

Penetration Testing Framework

Norm 4 ASF/2018

Network and Information Security (NIS) Directive

Secure Software Development Lifecycle (S-SDLC)

Mobile Security Testing Guide (MSTG)

PCI Penetration testing guide

Technical Guide to Information Security Testing and Assessment (NIST 800-115)

Information Systems Audit and Control Association – ISACA

Penetration Testing Execution Standard (PTES)

Information Systems Security Assessment Framework (ISSAF)
These are the
key stages of penetration test

when you work with Bit Sentinel:
1. Pre-engagement Interactions
A meeting or a call with one of our certified pentesters
Setting expectations
Define the scope and goals of the pentest
Define the list with all  systems that will be tested
Determine included and excluded activities
Select the pentesting methods to be used
Sign consent forms between your company and our team
2. Intelligence and Information Gathering
Gather intelligence to better understand how a target works and its potential vulnerabilities based on Open Source Intelligence (OSINT) and other in-house developed methodologies
3. Threat Modeling
Gather relevant documentation and information
Identify and categorize assets
Identify and categorize threats and groups of threats
Map threat groups against assets
4. Vulnerability Analysis and Exploitation
Based on the customer's needs, in this phase the specialists will perform various tests in order to uncover:

Web Application vulnerabilities
Network assets vulnerabilities
Infrastructure Design issues
Memory-based vulnerabilities
Wi-Fi vulnerabilities
Zero-Day Angle
Physical vulnerabilities
Social engineering

Gain access by simulating realistic attacks such as vulnerabilities defined in OWASP TOP 10 (for eg. Cross-site scripting, SQL injection) and others 
Remove any false positives
5. Post Exploitation, Pivoting and Privilege Escalation
Escalate privileges or achieve lateral movement in the network
Attempt to steal data, intercept traffic, etc., to understand the damage an attacker can cause
Try to achieve a persistent presence in the exploited system to see if an attacker who gains access can maintain it for a longer time without being noticed
Simulate advanced persistent threats
6. Reporting and Mitigation, Wiping Evidence
Creating the pentesting report which includes a detailed description of all the activities and the discoveries that resulted from them
Define the recommendations for patching vulnerabilities and creating the processes that protect your company against future attacks
Detailed explanations to provide you with the context you need to understand how you can use your resources to address cybersecurity priorities
Develop the Executive summary
7. Retesting Phase
What may be helpful to know is that we include a retest of your system in the original penetration test price. This helps you track your progress after you've implemented the remedial actions we recommended.
What you get after a Bit Sentinel penetration test
Once the penetration test concludes, we provide you with a useful and actionable report structured to meet international standards. Here is what the report includes:
Limitations Regarding the Disclosure and Use of This Report
General Introduction

– setting the context

Executive Summary

– the high-level overview of our findings

Methodology

– testing methodologies used

Conducted Tests

– the list of tests we performed and what we focused on finding by using them

Identified Vulnerabilities

– list, distribution, risk scoring and the technical documentation you can use to recreate our findings  

Detailed Report of Each Vulnerability

– fact-based risk analysis to validate results

Conclusions

– tactical guidance for immediate improvement and strategic recommendations for long-term enhancements.
Find out
which pentest approach works for you
When you work with Bit Sentinel for a penetration test, we ensure that it's the right approach for your business need and context. We balance our focus on people and processes with the technical solutions involved.
When contracting a pentest, you can select the approach that works best for you. Options include:
Black box

penetration testing
In this setting, the penetration testing team has no prior knowledge of the company they're about to evaluate.
This enables Bit Sentinel cybersecurity professionals to:
Launch controlled attacks against the tested systems to uncover security flaws in a realistic manner

Uncover how lower-risk vulnerabilities exploited in a particular sequence lead to higher-risk vulnerabilities

Identify vulnerabilities that may be difficult or impossible to detect with automated network or application vulnerability scanning software

Scale pentesting methods to large infrastructures while keeping software confidential

Mimic attackers' behavior in a lifelike manner to identify weaknesses in your infrastructure and any of your services.
White box

penetration testing
This version of pentesting is also known as a glass box, structural, clear box, and open box testing. Its name implies that you provide complete knowledge of your infrastructure to the ethical hackers who perform the test. This often includes network diagrams, source code, ranges of IP addresses and more.
Armed with this knowledge, the engineers on the Bit Sentinel team identify weaknesses before conducting a comprehensive audit to identify all other vulnerabilities.
Knowing what a specific asset does is essential for white box penetration testing because it informed the tester if a program diverges from its intended goal.
Some of the benefits of white box pentesting include:
Revealing errors in code without special access to tested assets

Identifying points of failure faster to allow for prompt remediation

Being an ideal fit for small-to-medium applications or less complex systems

Revealing weak code sections that might fail under compromise attempts (see security code review).
If you're looking for a complete and thorough examination of your vulnerabilities, we recommend both white box and black box tests.
Grey box

penetration testing
Wondering if there's a version in between white box and black box pentesting?
There is and it's predictably called grey box testing.
This option blends tactics from both testing techniques and allows for a comprehensive perspective of your organization's security level.
In this context, Bit Sentinel engineers examine the design documentation your provide about your network and prioritize tests targeting high-risk assets instead of working through this process themselves throughout the test.
Because of its highly focused approach, grey box testing is effective both from a cost and duration perspective. At the same time, our team can validate attack vectors and scenarios and minimize false positive results faster.
Bug Bounty

penetration testing
If you are looking for a result-oriented Penetration Testing that basically involves paying for security bugs found, instead of our time spent researching and identifying them, Bug Bounty Penetration Testing is for you.
​​Instead of paying a fixed fee, we will charge a fee per vulnerability discovered, relevant to its class of vulnerability and the manner in which it is found.
If no security vulnerabilities are discovered during the engagement period, we do not charge you anything. Also, duplicate issues across different systems or the same issues found repeatedly are only charged once.
Bit Sentinel will ask you to establish a "Maximum" threshold amount you are willing to spend on this engagement. If the threshold is reached, you can decide if we close the engagement or continue researching other vulnerabilities.
Choosing Bit Sentinel for your penetration tests means you get:
Full transparency

over the penetration testing process

Certified infosec professionals

who focus on one customer at a time

Fair pricing that doesn't change

, including clear terms and conditions

Thorough testing without downtime

and business impact

Professional and responsive support

from highly qualified engineers

A single point of contact

to keep communication smooth and effective

Actionable reports and guidance

to make the best decisions for your organization

A re-test included in the original price

, performed after you've had enough time to apply the recommendations included in our report. 
Are you ready to learn how your assets stand?