Security Operations Center-as-a-Service
_
Ensure reaching the highest level of cyber security for your business
Some say that defense is the best offense. This is perfectly true for an effective cybersecurity strategy.
To avoid data, reputational or financial losses that could result from a security breach, your monitoring and incident response capabilities must be at the highest level.
An effective Security Operations Center managed by a team of trained and certified specialists is the most time, cost and results efficient solution to ensure your cyber protection systems are mature.
What is a
Security Operations Center?
A Security Operations Center, also known as SOC, is a 24/7 operation facility in charge of identifying, remedying, and responding – in real time – to cybersecurity threats targeting an organization.
Due to the ever changing nature of cyber threats and attacks, the team running a SOC needs to be up to date with the latest security news, technologies, tools, certifications and regulations. A SOC team needs to express the highest level of expertise and professionalism and act as top-notch responder in the face of cyber attacks.
A SOC is essential for any organization, as it monitors the infrastructure from one end to another – networks, systems, databases, devices, apps, processes – in order to collect data from as many sources as possible. This ensures a proactive approach when protecting an organization's infrastructure and keeping it ten steps ahead of malicious actors.
What is
Security Operations Center as-a-Service?

/ SOCaaS
An organization can have their own SOC. However, setting up and managing an internal SOC is often time-consuming and quite expensive, especially because many organizations' business lines are not necessarily cyber security oriented. But cyber threats still need to be kept at bay.
This is where Security Operations Center – as – a – Service, also known as SOCaaS, comes in! 
SOCaaS is an outsourced SOC. A third party provider like a top and experienced cyber security services provider – provides you with:
A cost-effective subscription to SOC services

A highly-trained, skilled and certified security team

Cloud-based, 24/7 advanced monitoring and security services to identify and prevent attacks

End-to-end automated and manual detection doubled by response services

Next-gen technology, equipment, processes and tools

Proper recovery processes of the data that may have been lost in a breach

Regular training programs that help employees how to identify and report cyber threats and how the implemented security measures protect them from industry-specific attack vectors. 
Introducing the
SOC Technology Stack
Also known as Security Information and Event Management system, it's a software that monitors an organization's information security systems, analyzes logs and centralizes data in order to receive timely alerts for any unusual activity.
2.

Threat Intelligence platforms
It adds more data about threat actors and their respective techniques.
3.

Security Solutions & Security Agents
Are used to protect assets, networks and services against malicious activities and they also provide telemetry that helps SOC teams investigate and respond to incidents.
Also known as Security Orchestration, Automation, and Response, is a platform that automates manual tasks (scans, for example), response to alerts and event analysis.
It may sound like there's a lot to consider when setting up a SOC, but don't worry – we've got them all covered! The Bit Sentinel SOCaaS team has solutions that can adapt to existing tools & technologies, to your current security maturity and budgets.
Benefits:
An internal team will be spot-on to serve one organization's purpose only
An organization can build their own SOC tools, so it may be easier to make any other alterations directly
There is no third party an organization needs to reply to
But:
Everything is expensive, even for the most basic form of SOC: technologies, tools (even when developed in-house), skilled specialists
It is very difficult to find, hire and keep the right specialists
Combined with the "always-on" nature of the job, organizing and managing a SOC will slowly become time-consuming
Your internal SOC team is not exposed to as many threats and incidents as an external SOCaaS provider; with few opportunities to gather increased knowledge about the newest vulnerabilities, your internal SOC team might not be as efficient.
Benefits:
The SOC is outsourced to a company that focuses solely on cyber security, so you'll enjoy the best-in-class service and 100% attention to your security needs
Your SOCaaS provider fends off cyber threats for a living, so their wide-ranging expertise will pay off: effective response time, greater support availability, better issue, vulnerability and risk prioritization
The SOC team is proficient in all cyber related disciplines: threat hunting, digital forensics, incident response, research, legislation, security engineering, penetration testing and so much more. So they will easily cover every inch of your organization's digital and physical perimeters
The SOC team is focused purely on expanding their knowledge and improving their service in this specific field, so they will relieve you of the burden keeping up with the latest compliance and certifications requirements
Given the constant changes in the threat landscape, the technologies required to properly operate an efficient SOC will have to keep up; a SOCaaS provider will take over this and manage the process of integrating and updating all necessary tools
You won't need to worry about setting up the proper physical facility needed to host a SOC
A SOCaaS provider takes the problem of finding, hiring and keeping the right people for a SOC off your hands
A SOCaaS comes with fresh agility, flexibility and scalability when it comes to change – whether we talk about working from home policies, business expansion, IoT integration and so on, an outsourced SOC will be there to support and help you in your growth, given your priorities
Paying a regular, fixed price based on consumption is far more effective than dealing with any expense that comes from managing an on-premise SOC
You may not be sure if SOCaaS is for you but we're sure it is! With so many areas covered, what's left is to find the right SOCaaS provider.
Time to turn this challenge into an opportunity! 
Large or small organizations from all industries and verticals can choose to work with a SOCaaS provider. Here's how:
If you're in the early stages of developing your security plans, strategies and programs, a SOCaaS provider will help embed capabilities to detect and respond to incidents.
If you have cyber security strategies in place, but you're unhappy with your current approach, a SOCaaS provider will help you get on the right track.
If you are already managing your own SOC, but want to take it to the next level, a SOCaaS provider will help you update your SOC processes, bring new tools or offload the effort of your team to let them focus on other key areas.
Why you should choose
Bit Sentinel?
Bit Sentinel was founded in 2015 and now is a leading company in Central and Eastern Europe to provide professional cyber security services. 
On the defense side, BSS-CERT is one of the very first professional SOC-as-a-Service available for customers across all major verticals and industries who need comprehensive detection, response, and threat intelligence capabilities.
What to expect from

Bit Sentinel SOC-as-a-Service?
1.

Highly skilled cyber security professionals who:
hold over 40 of the most prestigious professional certifications in the field
provide 24/7 monitoring and support to protect your people, cloud infrastructure, physical infrastructure and SaaS applications
offer regular updates on your security status
address threats immediately
work side-by-side with you to agree on the best action plans and strategies
align the SOC strategy with your business goals
install, tune, deploy and manage everything related to your cyber security
2.

Next-gen SIEM technology and other integrated tools that allow us to provide you best-in-class services:
Monitoring security events and alerts from security solutions (e.g. Fortinet Firewall, Antivirus)
Monitoring cloud security events and alerts (Azure Active Directory, Office 365 and so on)
Monitoring security alerts on on-premise/cloud servers and virtual machines
Monitoring security alerts on workstations
Network event monitoring (Fortigate, NetFlow and so on)
Response to critical or high impact security alerts
Security incident response
Support and assistance for security incident management and expert analysis
Constant Vulnerability Assessment
Regular Active Directory
Vulnerability & Risk Assessment
Active Threat Hunting
Installation and monitoring of traps and deception systems/honeypots
Analysis of suspicious emails
and so much more!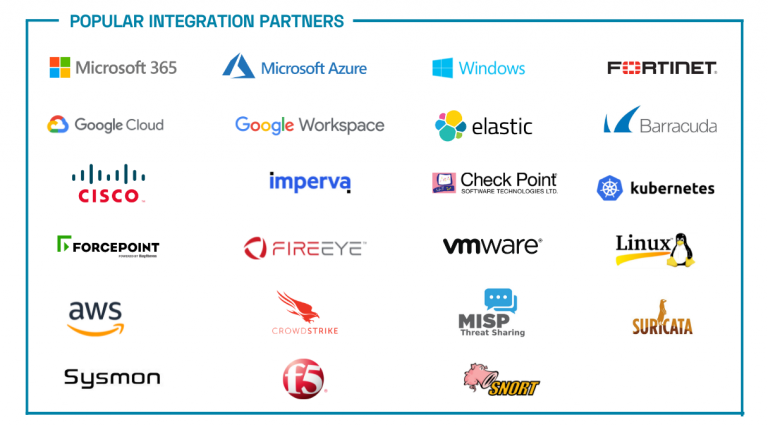 1.

for Cloud infrastructure
Pricing based on resources.
2.

for on-premise infrastructure
Pricing based on endpoints.
Pricing based on user accounts or traffic.
Pricing based on email count.