This tool can help you discover all the cookies your website is generating. In this way you will be able to detect privacy issues and improve your Cookies Policies to comply with the new requirements from General Data Protection Regulation (GDPR) and e-Privacy Directive.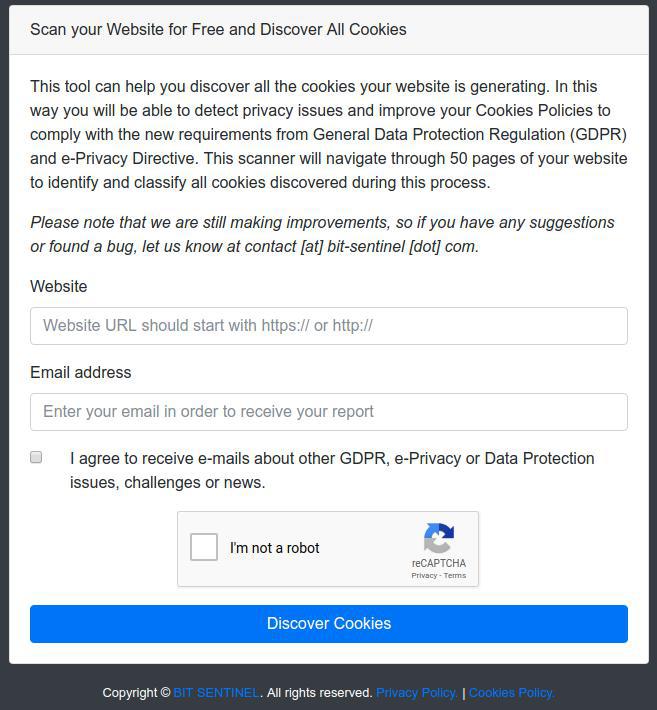 What are cookies?
Cookies are small files which are stored on a user's computer. They are designed to hold a modest amount of data specific to a particular client and website, and can be accessed either by the web server or the client computer. This allows the server to deliver a page tailored to a particular user, or the page itself can contain some script which is aware of the data in the cookie and so is able to carry information from one visit to the website (or related site) to the next.
What is GDPR?
According to Wikipedia, the General Data Protection Regulation (GDPR) (EU) 2016/679 is a regulation in EU law on data protection and privacy for all individuals within the European Union (EU) and the European Economic Area (EEA). It also addresses the export of personal data outside the EU and EEA. The GDPR aims primarily to give control to citizens and residents over their personal data and to simplify the regulatory environment for international business by unifying the regulation within the EU
What is e-Privacy?
According to Wikipedia, the ePrivacy Regulation (ePR) is a proposal for a Regulation on Privacy and Electronic Communications. Its full name is "Regulation of the European Parliament and of the Council concerning the respect for private life and the protection of personal data in electronic communications and repealing Directive 2002/58/EC (Regulation on Privacy and Electronic Communications)." It would repeal the Privacy and Electronic Communications Directive 2002 (ePrivacy Directive) and is lex specialis to the General Data Protection Regulation. It would particularise and complement the latter on the electronic communications data that qualify as personal data like the requirements for consent to the use of cookies and opt-outs.