Nearly 1500 high school and university students tested and developed their cyber security knowledge
In 2020, (ISC)², one of the world's leading cybersecurity professional organisations, estimated in its report, "Cybersecurity Workforce Study", that there is a need for approximately 3.12 million cybersecurity professionals globally. One year later, the figure dropped to 2.72 million. Moreover, the latest study shows that there are 4.19 million cybersecurity professionals worldwide, an increase of more than 700,000 compared to last year.
Cybersecurity is increasingly understood as a career opportunity by and for the younger generation.
Yet, the need for cyber security specialists is still strong
Hybrid and remote work practices are becoming increasingly accepted and encouraged by companies. Communication and collaboration are already taking on new digital dimensions. This can only mean that digitisation will continue to deepen considerably. In this context, new easily exploitable vulnerabilities and highly complex cyber-attacks will soon emerge.
Even as the number of people choosing a career in cybersecurity grows in many of the world's major economies, the global cybersecurity workforce still needs to grow by 65% to effectively meet all these challenges.
Further efforts are needed to encourage young people to specialise in this field of activity. In order for new generations of ethical hackers to be able to combat such frequent and sophisticated cyber-attacks, a proper environment is necessary to develop, test and deepen the specific required knowledge.
UNbreakable Romania, an initiative supporting young talents
UNbreakable Romania started in 2020 as a Capture the Flag (CTF) competition for high school and university students in Romania.
The cybersecurity skills gap has become increasingly noticeable in both the private and public sectors. So, starting 2021, UNbreakable is transforming into a much more comprehensive program to educate high school and university students passionate about cybersecurity. In addition to two competition stages – individual and team – participants now also have access to an intense bootcamp offering a series of webinars, theoretical resources, hands-on exercises on the CyberEDU platform, and mentors, experts and industry alumni alike, waiting to answer any questions.
UNbreakable Romania is proving to be a successful initiative: from over 850 high school and university students who participated in the spring-summer edition, 30% returned for the 2021 fall-winter season. Alongside them, newcomers competed and achieved outstanding results.
UNbreakable Romania, the fall-winter season, in figures and more
Over 600 high school and university students registered up for the fall-winter 2021 season. The contest is most popular among 18-21 year olds (39% fall-winter vs 36% spring-summer) and 21-25 year olds (31% in both seasons). Thus, the university environment is best represented, registering 56% in the autumn-winter season and 54% in the spring-summer season.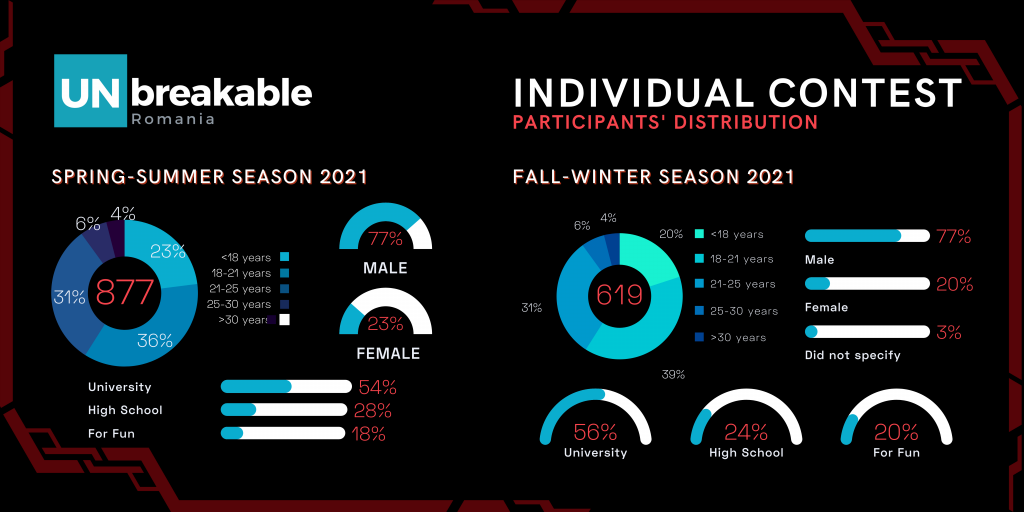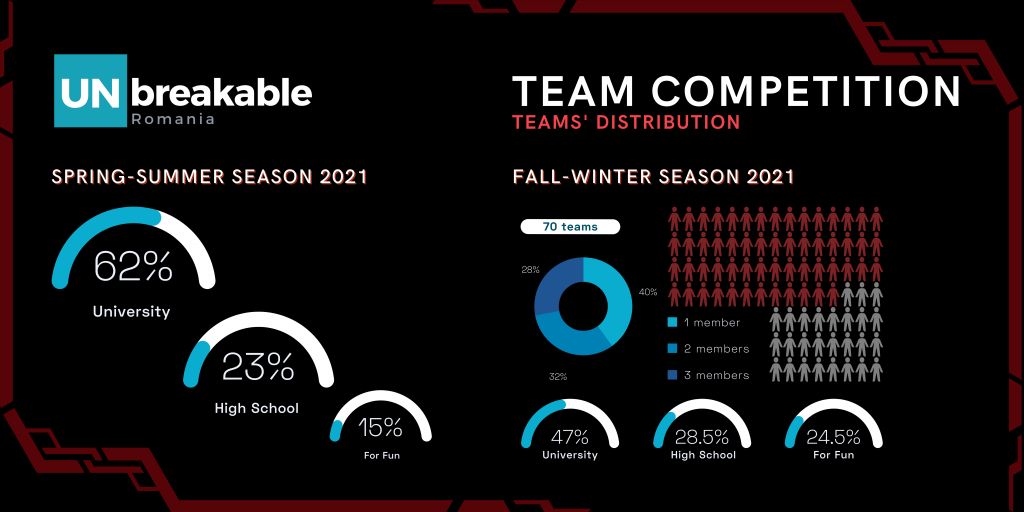 Participants had a month to prepare intensively for the UNbreakable competitions. The bootcamp started on October 28th. At the kickoff webinar, industry leaders shared some tips and details from their professional experience.
During the kickoff webinar at UNbreakable Romania, the fall-winter season, Mr. Anton Rog, Head of the CyberInt National Centre, said that "especially in the field of cyber security, the human resource is the most important". With each edition, UNbreakable aims to reach this resource as soon as possible and to foster it, so that each participant becomes a valuable expert in cyber security.
The UNbreakable bootcamp ran throughout November, when participants were given 76 hands-on exercises and were able to delve into a variety of cybersecurity topics in 17 webinars held by mentors.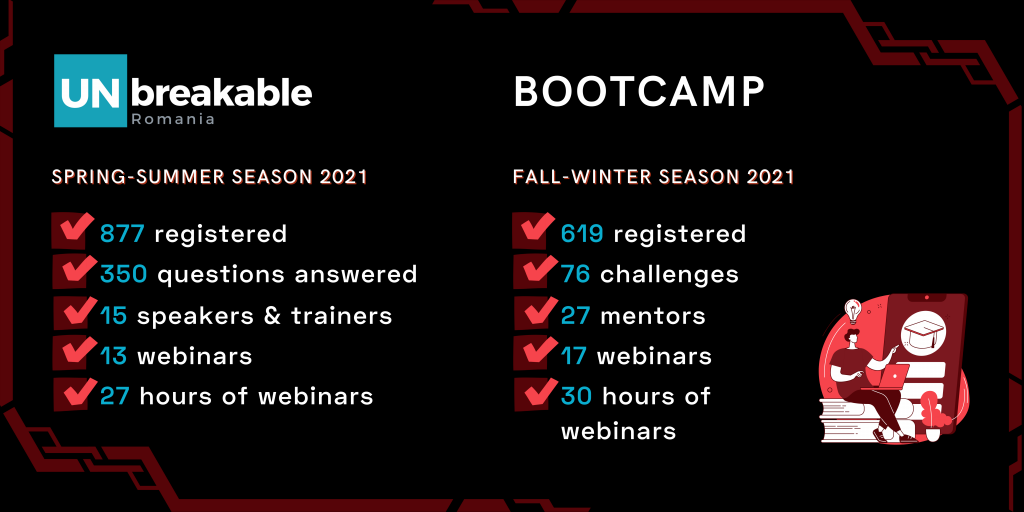 After the bootcamp, two competitions followed, the individual and the team competition. For 48 hours, over two consecutive weekends, all participants tested their technical cyber security skills.
The results speak for themselves. For both competitions, the UNIVERSITY category is the most consistent: first place is claimed by the winners of the spring-summer season. These are ADRAGOS (individual) and PWNIBUC (teams). The rest of the rankings for this category, as well as for the HIGH SCHOOL category, is diversified, as it was for the previous edition, and brings into the spotlight new names and educational institutions from different parts of the country. Thus, through UNbreakable, new talents with huge potential for the future are constantly being discovered.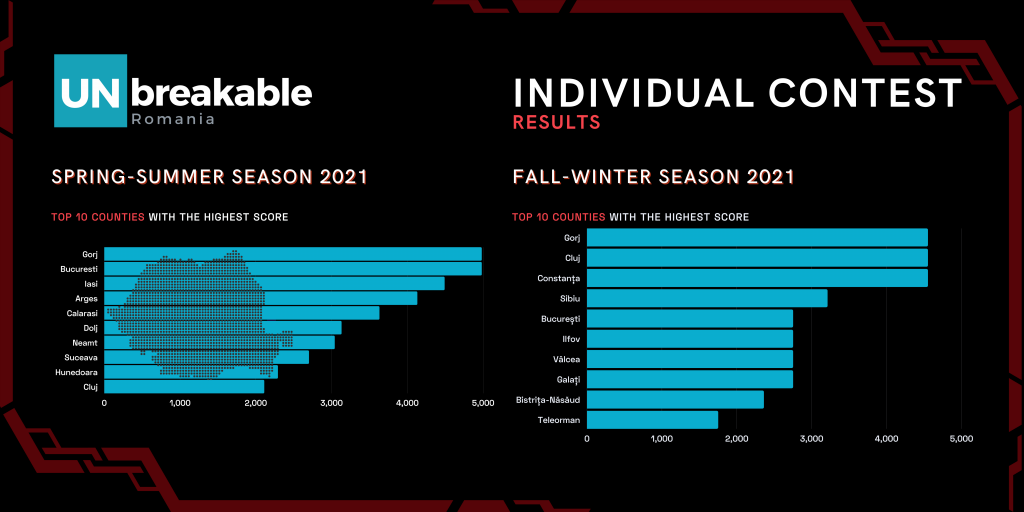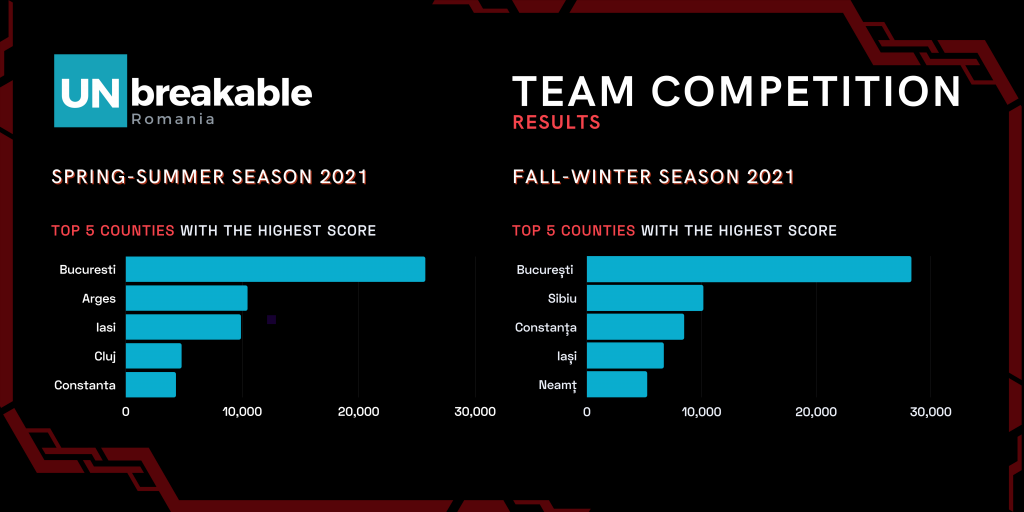 UNbreakable Romania is organized by Bit Sentinel in collaboration with Orange Romania and takes place on the CyberEDU educational platform. 2021 brought two seasons full of activities and over 1500 young people passionate about choosing a career in cyber security. With this in mind, we look optimistically towards 2022 when we will return stronger to challenge the younger generation of future cybersecurity specialists: "For those who want to push their limits every time, I recommend spending a weekend in the UNbreakable competition".